President Trump Catered Fast Food Buffet To Honor Clemson Tigers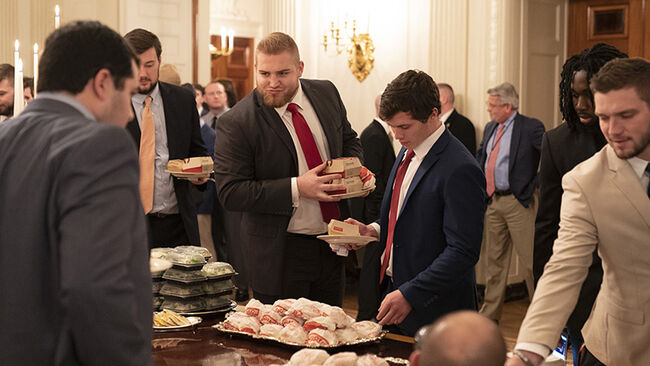 President Donald Trump personally catered a special meal for the Clemson Tigers' trip to the White House to celebrate their national championship victory over the Alabama Crimson Tide. Because of the government shutdown, the president paid for a variety of fast food, including burgers, fries, and pizza.
"We ordered American fast food, paid for by me. Lots of hamburgers, lots of pizza," Trump told reporters. "We have some very large people that like eating, so I think we're going to have a little fun."
The players appeared to love the massive buffet, grabbing stacks of burgers from silver trays, topping them off with condiments from silver bowls and using the fine china plates usually reserved for elegant dinners.
"What a fun day it's been," Clemson coach Dabo Swinney said. "It's an honor to be a part of this tradition, and to be honest with you, it's really cool that football can create an opportunity like this."
Trump said that there were over 1,000 burgers and other fast food items, adding that the food was devoured by the hungry college football players in about an hour.
Great being with the National Champion Clemson Tigers last night at the White House. Because of the Shutdown I served them massive amounts of Fast Food (I paid), over 1000 hamberders etc. Within one hour, it was all gone. Great guys and big eaters!