Golden State Warriors Drop NBA Record 51 Points In First Quarter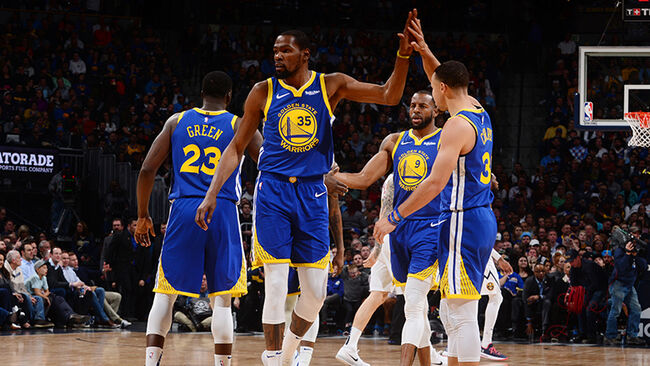 The Denver Nuggets could not do anything to stop the Golden State Warriors in the first quarter on Tuesday (January 15) night. The Warriors scored an NBA record 51 points and drilled a franchise record ten three-pointers, all in the first 12 minutes of the game.
Steph Curry, Klay Thompson, and Kevin Durant led the way for the Warriors, scoring a combined 89 points in the 142-111 victory.
"Obviously, there's not gonna be very many record-setting quarters every night," Thompson told reporters after the win, "But it shows you what we're capable of when we're hitting on all cylinders. It's beautiful to watch, and it's more fun to be a part of."
The victory moved the Warriors to the top of the Western Conference standings, putting them a half-game ahead of the Nuggets.
"We've been paying attention," Curry said. "We know who's been playing well -- and to be honest, we haven't played as well against the playoff teams in the West. We wanna kinda correct that going into the last half of the season. So, this is a big night for us to continue to build momentum. We want to be able to carry this and put a nice little streak together, and we're doing it."
Photo: Getty Images